Whether your dad realizes it or not, deep in his heart he really wants a tech gift for Father's Day. He may not think of himself as a techie, but chances are one of these amazing tech gifts will rock his world…or at least make him smile.
These tech gifts are sure to delight dads, grads, brides and grooms or anyone else you might be getting gifts for this season, no matter what your budget is. You may even find a fun gift or two for yourself!
Light Saber Umbrella
Bring your dad's rainy days into the future with a light saber umbrella. Whether your dad is battling rain drops or Darth Vader, he will appreciate this high tech umbrella. The shaft illuminates, making you more visible and doubling as a light saber for those times when you need to fight evil.
The Light Saber Umbrella is currently available from ThinkGeek for $7.49 on sale.
Hot Rod Heated Travel Mug
If your dad enjoys a cup of java on the way to work, get him this coffee mug with both retro style and high tech functionality. Pop this mug into your cup holder, plug it into your car's outlet and keep your coffee piping hot during your morning commute.
This mug comes complete with an analog gauge so you can see the temperature of your drink, and an on/off switch so you can control the heat.
The Hot Rod Heated Travel Mug is available from ThinkGeek for $24.95.
Curved Wooden Phone Stand
Your dad can prop up his phone elegantly with this wooden phone stand. Made from oak and oak veneers, this curved stand holds your phone in either landscape or portrait position. You can even charge your phone while it's in the stand by threading your cable through the hidden channel.
The Wooden Phone Stand is available from Etsy for $25.
iKeyFinder
Your dad never has to lose his keys again with iKeyFinder. When he attaches his keys to this high tech key chain he'll be able to locate his keys by tapping a button on an app. The Bluetooth signal from his phone will make his iKeyFinder beep and light up, so he can find his keys from up to 50 yards away.
The iKeyFinder comes with a USB charger that can plug into your computer or a wall USB outlet and its battery stays charged for up to 30 days. The device comes with a registration feature so you can get your keys back if someone else finds them.
This video shows how iKeyFinder works:
iKeyFinder is available from the manufacturer for $39. The Android iKeyFinder app is free at Google Play. An iPhone app is expected soon. Stay tuned to The Wonder of Tech for updates!
Lexon Flip On/Off Alarm Clock
If you want your dad's day to start off right, get him the Lexon Flip On/Flip Off Alarm Clock. This clock is easy to set, just flip it to turn it on, then flip it again to turn it off. The display rotates when you turn the clock so the numbers aren't upside down.
You'll never wonder whether you've forgotten to set your alarm: bold letters on the top of the clock tell you whether the alarm is on or off. The time shown in the bottom corner of the screen tells what time the alarm is set for. Touch the top of the clock for snooze or to light the display.
The Lexon Flip On/Off Alarm Clock is available from Amazon, currently on sale for $45.
Tablet Lawn Chair
If your dad's one of your biggest fans, coming to your soccer, baseball and croquet games, get him a lawn chair that helps him do double duty during breaks. This tablet lawn chair gives you the convenience of a cup holder, a side pocket with a waterproof pouch, and a stand for your tablet. The flexible tablet stand lets you rotate your tablet 360° so you can take photos and share them with others.
The Tablet Lawn Chair is available from Hammacher Schlemmer for $59.95.
Amazon Fire TV
Make watching his favorite TV shows and movies easier for Dad with the Amazon Fire TV. With Voice Search and instant loading of Amazon videos, Dad will be relaxing in no time! If your family is a member of Amazon Prime, you'll be able to watch over 200,000 videos for free.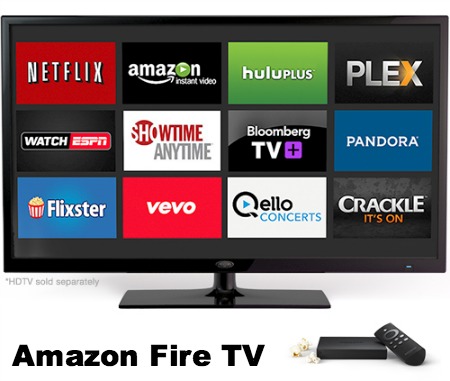 Dad can also enjoy games, music and photos on your television using the Fire TV. Load it up with apps such as Crackle, YouTube and Netflix for more entertainment options.

Shhh…This is the gift I've gotten for my father-in-law and husband.  :-$
Fire TV is available from Amazon for $99. To really splurge on Dad, get him a game controller, available for $39.99, that also works as a remote control for the Fire TV.
My full review of the Fire TV: Amazon Fire TV Review — What Makes It Radically Different?
Converter Solar Backpack
Whether your dad is a hiker or hates to run out of juice, check out the Converter Solar Backpack that will charge his electronics with the rays of the sun. This backpack has solar panels to harness the energy of the sun and convert it into electricity for your laptop and mobile devices.
Backpacks come in silver or black and start at $129 from Voltaic Systems.
Belkin NetCam HD Wi-Fi Camera with Night Vision
Whether your dad likes to keep an eye on his castle or his cottage, get him the Belkin NetCam HD Wi-Fi Camera with Night Vision. Dad can see what's going on using an app or his computer, even in the dark.
You can get text messages and email alerts when the camera detects motion and record the camera's video using an app. The camera has a wide-angle lens and can be moved remotely using the app.
The Belkin NetCam HD Wi-Fi Camera with Night Vision is available from Verizon for $129.99.
Human Bowling Ball
Does your dad enjoy bowling? Then get him a human bowling ball so he can knock down those pins up close and personal. This outdoor game is sure to provide hours of fun as people take turns running inside the ball towards the 6′ high pins. Inflated side bumpers greatly increase your chances of making a strike!
The Human Bowling Ball is available from Hammacher Schlemmer for $5500.
The Immersive Audiophile Pod
If your dad is an audiophile (and what dad isn't?), help him enjoy his music to the fullest with the Immersive Audiophile Pod. This pod will engulf you in music with sound coming from the five speakers embedded in the pod. Vibrations in the seat help you experience sound waves that human ears can't detect.
The pod rotates 350° and comes with a 16 GB iPad so you can access both your music files and tunes from the Internet.
This video shows how the pod can immerse you in your music:
You can indulge your dad with the Immersive Audiophile Pod for $32,000 from Hammacher Schlemmer.
Golf Cart Hovercraft
Whether or not dad's a golfer, he'll love the golf cart hovercraft that glides on a 9″ cushion of air over land and water. This hovercraft holds up to four adults and has a 65 hp engine that will attain speeds of up to 45 mph forward motion and 25 mph backwards motion. The pressure left by a human foot is nine times as intense as the air pressure of the hovercraft, which means that this golf cart doesn't leave any marks on the grass as it glides you around the course.
This golf cart doesn't need to be driven on paths, you can take shortcuts over greens and water hazards, potentially speeding up your golf game. Maybe Dad will even let you borrow the keys someday!
This video shows you the world's coolest golf cart in action:
The Golf Cart Hovercraft is available from Hammacher Schlemmer for $55,000.
SlideShare
Check out the SlideShare presentation of these fun Father's Day tech gifts:

Your Thoughts
Which tech gift would your dad like best? Did you find any tech gift for yourself? Has your dad always wanted a light saber umbrella? Would your dad let you borrow his hovercraft? Let us know in the Comments section below!