If your Facebook friends are fantastic, they probably fill your Feed with fascinating and fun articles filled with interesting facts. But if your Feed becomes flooded, you may find that you don't have the time to read all of these articles at once. You can Like articles, but finding them later may become a formidable task.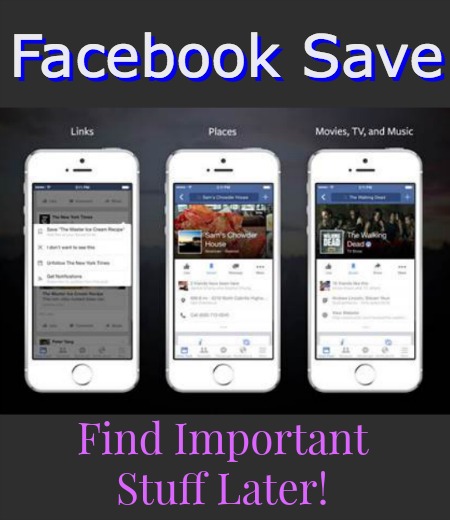 A new feature from Facebook called Save lets you save information for later in an organized page you can access later. You can Save items of interest including links, places, movies, TV and music. Facebook organizes these Saved items into categories so you can find them easily later.
Instead of interrupting your flow of seeing Facebook updates to read an engrossing article, you can Save it for later. Save all your items of interest and then read them when you're done finding out the latest news about your friends.
This video from Facebook demonstrates how Save works:
Facebook is rolling out its Save feature for mobile and desktop over the next few days.
When to Use Facebook Save
Let's say you're reading updates from your friends, perusing their photos and reading their rants. You come across a post about the latest article at your favorite tech blog, The Wonder of Tech. You can click Save and get back to reading The Wonder of Tech article after you've finished watching the latest video of your Aunt Polly's kitty doing genius pet tricks.
You can also use Save to see at a glance all of the places your friends have recommended that you've Saved. Can't remember which restaurant your friend Sam said was his favorite pizza parlor? Check your Saved Places and find out quickly.
Use Save to remember later a song that a friend recommends. Let's say your friend Linda is listening to her new favorite tune, Move, by Little Mix on Spotify, and recommends it on Facebook:
You want to listen to it but can't right now because you're:
about to give a speech
in a sleeping baby's room
at your local library
in the middle of a promising job interview
all of the above
Save the song so you can rock out later!
How to Save Articles
When the Save feature becomes available, you'll see Save next to Like, Comment and Share. You can also choose Save from the drop-down menu on a post by clicking on the 
 arrow:
Facebook may give you reminders in your News Feed about your Saved items in case you forget to go back and check them later.
How to Find Your Saved Items
When you want to read your Saved items later, you can find them by looking in the left side bar of your home page from the browser on your computer:
You can also access your Saved items from your mobile device by tapping the More button.
What Else You Need to Know About Facebook Save
Saving Is Private
When you Save an item, only you can see that you've Saved it. Your Saved items won't appear to others on your Home Page or in your News Feed.
You Can Share Saved Items
Your Saved items may be your favorite items that you want to share with your Facebook friends. You can share with others items that you've Saved by clicking on Share from your computer or swiping to the right on your mobile device.
Where to Find Previously Saved Items
Items you've saved previously on your Facebook About page, such as books, movies and music, will now appear on your Saved page. They will no longer be available on your About page.
More Information about Facebook Save
You can find out more information about Save from the Facebook Help page.
Your Thoughts
Has your Facebook account been updated to include the Save feature? Are you excited about this new feature? Have you always wished that Facebook had a Save feature? What items will you be Saving? Let us know in the Comments section below!