Behold!
The long-awaited renovation of The Wonder of Tech is complete with a new and improved site for your reading pleasure. No longer do you have to suffer with:
the standard WordPress theme without a sidebar or
solving CAPTCHA math problems in order to leave a comment (though many of you praised the effect that CAPTCHA had on your math skills)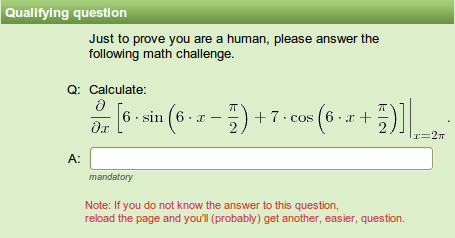 The Wonder of Tech has a new theme, Thesis, with a new look, Chronicl. We also have a new professional hosting account at Bluehost to make the pages load much more quickly than before.
All of this means that the New and Improved Wonder of Tech will be faster, prettier and more functional. And isn't that what you want in a blog?
Props
Ashvini Kumar Saxena
This transformation would not have been possible without the help of the amazing Wonder of Tech team. And by "team" I mean Ashvini Kumar Saxena. The Brilliant Blogger from Bangalore came to my aid in a big way when I embarked on overhauling this site to be better than ever.
Although I am a tech blogger, I'm not conversant in coding. I'm not alone, I heard that Steve Jobs didn't write code either, so I don't feel too bad. But when you want to redo your website, knowing code sure comes in handy.
I reached out to my dear friend Ashvini whom I know through blogging. Discovering his blog, Thoughts on Entrepreneurship, Leadership and Motivation, was a treat because of his eloquence and insight, but getting to know the person was even more enriching. When I found his blog, I nicknamed Ashvini "The Professor" because he shares his extensive knowledge with others and interacts with his readers in such an engaging manner. Visiting his blog feels like attending your favorite class.
As Ashvini was helping me transform my blog, I realized that his Professor moniker was more accurate than I had previously realized. Instead of merely making the changes that I requested, Ashvini would often try to teach me the coding he was using, even though that would take him more time. He wanted me to try all sorts of maneuvers, assuring me that what ever I did could be fixed.
Luckily, Ashvini was wise and set up four different test blogs for me to practice upon. I broke one completely, but by the fourth try, we were able to establish a practice blog with enough resemblance to The Wonder of Tech that he was sufficiently satisfied to move the theme and its settings to this site.
As impressive as Ashvini's efforts were on my behalf, what's even more amazing is that he helped me while he was recovering from a poisonous spider bite he received while navigating the jungles of India. Perhaps I should change his nickname to Professor Spiderman?
I joked that, as with the superhero, Ashvini's bout with venom seemed to provide him with super powers as he was able to take my ideas and transform them into reality, teaching me along the way. Not an easy task, especially since Ashvini lives in a time zone 9 ½ hours ahead of mine.
According to the site birthvillage.com, the name Ashvini has special meaning:
People with this name tend to be natural leaders, self-sufficient, and ambitious. They generally want to make their own decisions in life and are not afraid to take charge or manage a situation. Professionally, they can be successful in political leadership, celebrity status, or as a small business owner.
I am not alone in my praise of Ashvini. A fitting tribute to Ashvini was written by Swami Balendu: Ashvini Kumar Saxena and his Blog about Entrepreneurship.
If you haven't had a chance yet, you should check out Ashvini's blog and his Kindle books, Bare Bones Entrepreneurship and A collection of short stories.
My sincere gratitude and appreciation goes to Ashvini!
The Other Members of The Wonder of Tech Team
Thanks also go to others who helped me with the renovation. My dear friend Rachel not only helped with the move to a new account, she also helped by advising me on images to use for the top of the blog. My beloved husband and dear daughters also chimed in with their opinions, making the choice of the water rainbow image a unanimous decision.
Bottom Line
I hope you enjoy the new and improved Wonder of Tech.
What are your thoughts about the new Wonder of Tech? Do you like the look? Do you miss solving CAPTCHA math problems in order to leave a comment? Let us know in the Comments section below!
* Math CAPTCHA image by CyberHades