The Wonder of Tech is delighted to welcome Patricia Dimick as a guest author. 
---
One of the most difficult decisions we make as parents now is when to get your child a cell phone. As a parent, you have the responsibility to shop wisely for your child's first phone. You also need to learn how to keep their costs down and to set straightforward rules to make sure your child doesn't misuse the phone.
Today's children are increasingly adept at technology, depending on smartphones for everything – from texting you when their practice is running late, to taking snapshots and selfies, to looking up information for school assignments. Smartphone use has become common not only among younger teens but also among tweens. Cell phones seem to be as much a part of their life as schoolwork, sports practice, and extra-curricular activities.
Consider the following tips when deciding on your child's first mobile phone.
Deciding When to Purchase Your Child's First Phone
You are the best judge about when the time is right to purchase your child's first phone. You know your child best, including your child's maturity, needs, and level of responsibility, which are all factors to consider.
One child may be not be ready to handle a mobile phone until getting a driver's permit, while another young one may be ready by the age of nine or ten. Only you know what's best for your child and your situation.
As a general rule, try the following: buy your child a phone when you need them to have a phone. For example, if your work often keeps you away from home and you need to check up on your child, getting them a phone is a good idea. Maybe your child is going away on a trip and you need to talk to them to make sure everything´s OK.
Decide what is best for you. Buying a phone for your child should be a matter of necessity, not a matter of luxury.
What Is the Phone's Purpose?
Consider what your child will do with the phone. Will the phone be used primarily to stay in touch with you and for emergency use? Will it serve for using some great educational apps during school holidays? Or will your child be using the phone for entertainment or to chat with friends?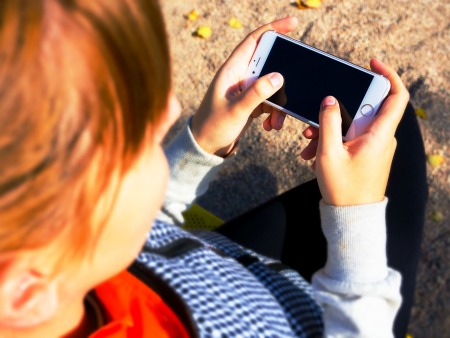 Think about whether your child will be able to care for the phone and handle the distraction and responsibility that comes with owning a smartphone. Consider what your child does with your phone when they borrow it.
Your young one should definitely be old enough so you can rest assured they will not lose their phone easily. Although options like Find My iPhone can help with that, there is surely no purpose in getting a phone for your five-year-old.
Choosing an Appropriate Phone
Buying your child's first smartphone is a big decision, so make sure to choose one that is a combination of what your child wants and what you as a parent need. Be sure to consider the phone, the carrier and the plan to see what's the best fit.
Use the Internet for researching consumer reviews of antenna strength, app availability, parental controls, special offers and features you may want (or not) for your child's phone.
You can also talk with other parents about which phones their children have, and the features both kids and parents like (and dislike) about them.
Keep in mind that what you do with your phone may differ from what a child does with a phone. Kids do more texting and chatting while you may do more mapping and GPS use.
Considering Coverage and Choosing Services
Be sure that your carrier covers all of the places where your child is likely to use a mobile phone. Also consider broader coverage if your child travels a lot for sports or other activities.
Look at carrier coverage maps to see whether your home, your child's school and other important locations are included. You don't want to discover too late that your carrier has a dead zone without coverage where you need it most.
As for the services, some available options include pre-paid or post-paid plans, family plans, unlimited texting options and shared provider, which allows customers with the same provider to have unlimited calls and texts. Look to see whether your child's service can be added to your plan, making it a family plan.
Teach your kids to check their minutes and data usage on a regular basis to ensure they don't run over the limit and incur high overage fees. Monitor your child's phone plan and upgrade or downgrade it as needed.
Learning About the Phone's Safety Features
Today's smartphones are the equivalent of powerful, handheld computers. Spend some time researching online and consulting with other parents about the safety features that can help protect your family.
You may want to set up parental controls such as blocking access to some numbers, or monthly limits on text messages. You may also need to turn on content filters to block sites with mature content and images.
Set up a family locator so you can track where your child is.
Take the time to show some of these features to your child, but don´t stop there – with an access to the Internet, smartphones can be pretty dangerous. That is why you should describe what cyberbullying and inappropriate behaviors are, and tell your tween to report any such behavior to you.
Teach your tween not to give out personal info or passwords, and to use social media and the camera responsibly. Warn your child not to take embarrassing photos of themselves or their friends.
Do everything you can to ensure maximum safety of your child´s smartphone use.
Setting Ground Rules
To show your child how to behave responsibly with a mobile phone, begin by modeling such behavior yourself. Dedicate an uninterrupted block of time to talk with your tween about responsible mobile phone behavior.
Be sure to include topics such as verifying who a caller is, texting respectfully, and honoring their school's policy on mobile phone usage. Remind your child to answer your phone calls whenever they can.
Moreover, teach your child to make sure the phone is always charged and ready for use. Kids should also be reminded to not leave their phones unattended.
Work together with them to track the amount of minutes, texts and data used so they can adhere to your plan's limits.
Your child can help to share in the responsibility of managing the cost of apps and downloads to the phone. Discuss with your child the cost of apps and warn them about in-app purchases. Set restrictions and talk about who will pay for these.
To avoid any future disagreements or misunderstandings about the phone rules, you can even post a written copy of them in a conspicuous place, such as on your refrigerator.
Conclusion
Having a mobile phone can help your child stay in touch with you from anywhere. The phone is also a tool to help your child learn responsibility in caring for fragile and expensive items. If you guide your young one through the use of a new smartphone properly, it can be a good way to boost their independence as well as responsibility.
Your Thoughts
Have you ever wondered when to get a phone for your child? When do you think the best time is? Do you have any advice for parents getting a cell phone for their child?
Share your thoughts in the Comments section below!
*****
Patricia Dimick is a Denver-based freelance writer and a stay-at-home mom. This passionate coffee drinker loves to write about parenting topics and anything related to healthy lifestyle choices. You can reach her on Twitter @patricia_dimick.
* Photos (edited) courtesy of Pixabay