This past week was the annual Consumer Electronics Show (CES) in Las Vegas. While some people regard CES as a toy fair for tech fans, the tech introduced there really can give us a glimpse of our future. This year's show was filled with gadgets, cars, computers, smartphones and more.
Many of the products at CES this year are designed to make your world smarter. These devices use Bluetooth and Wi-Fi to connect to the Internet and/or a mobile app so you can control them.
If CES does give us a preview of what is to come, you can expect to have new control over your world.
Kuri Home Robot
If you've wanted a robot for your home since the days of Rosie of the Jetson's, Kuri may be your answer. This new robot is adorable and can follow you around your home on wheels that are large enough to roll over carpets and thresholds.
The main purpose of Kuri is to act as a home security system. Equipped with a camera and four microphones, Kuri can send images and sounds to an app on your phone or tablet to let you know what's going on around your house.
Kuri also has speakers to read your favorite audiobooks, play music and let you listen to podcasts. Or you can listen to its musical robot sounds.
The robot responds to voice commands as well as commands from its companion app. Kuri can recognize faces and voices and alert you when it hears a loud noise in your home.
For those who are reluctant to get a home robot for fear that robots are taking over the world, Kuri has four videos at its website to assure you that your fears will not come to pass…at least not with Kuri.
Kuri is available for preorder for a $100 deposit and a total price of US$699.
LG W TV
If you thought smartphones were getting thin, then you'll be impressed with the LG W TV. This new television is named "W", as in wallpaper, to give you an idea of how paper-thin this TV is. With a depth measuring a mere 0.2 in/5.08mm, this television is thinner than an iPhone 7.
The W attaches to the wall with a special bracket. You can peel the TV off of the bracket by bending it, a party trick sure to impress your friends.
Even though this TV is razor thin, it has a sharp display. The OLED display has Advanced HDR, which analyzes the picture scene by scene for a better viewer experience.
The TV comes with Dolby Surround Sound, using either the included Sound Bar or your own speaker system.
Available in 65 or 77 inch models, the W TV starts at $7999. More information is available on the LG W website.
U Smart Shower
No, the U Smart Shower won't make you smarter, but it might make taking a shower much more pleasant and environmentally friendly. The U Smart Shower by Moen lets you set the temperature of the water in your shower and turn the water on and off. You can also set a timer for your shower to control the water hogs in your family.
Controlled by a mobile app or a control panel, the U Smart Shower can turn on at a certain time or from the comfort of your warm bed in the morning. You can save profiles for people or events, such as post-workout, relaxing, or bed time.
This video shows how the U works:
This smart shower can operate two or four shower heads. The prices for the U are for $1225 for the two-head system and $2265 for the four-head system.
More information about the U is available from the Moen U website.
ShadeCraft Sunflower Umbrella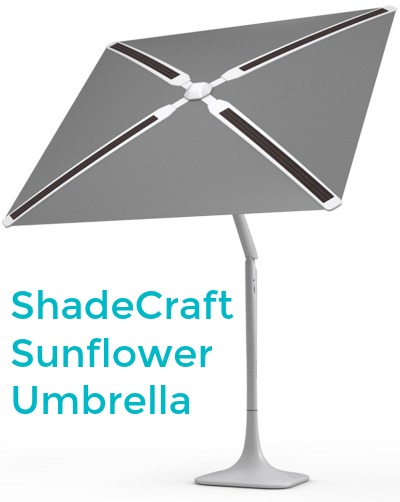 Your sun umbrella will seem pretty lame after you find out about the ShadeCraft Sunflower umbrella. Designed to block the sun throughout the day, the umbrella automatically pivots to keep you covered so you don't have to move a muscle to stay cool in the shade.
The Sunflower does more than shade the sun's rays. It comes with electric and USB outlets so you can plug in your devices. Play music or audiobooks from its Bluetooth speakers. Security cameras can help keep your home safe. It also comes with an app (of course) for you to control it.
Appropriately, Sunflower is powered by the sun. Four solar panels on the top of the umbrella harness the power of the sun to charge Sunflower's battery, which can also be used to charge your devices.
No word yet on pricing or timing, but you can find out more and see an introductory video at the ShadeCraft website.
Connected Toaster
Who said toasters had to be dumb? The Connected Toaster is, you guessed it, a smart 2-slice toaster that helps you achieve that perfectly toasted bread, bagel or gluten-free slice of deliciousness.
Connected by Bluetooth, the Connected Toaster uses an app to help you select the type of bread and level of darkness. The app will remember your preferences, saving you time when you toast. You can also control the level of toasting from the control panel on the toaster.
No word yet on prices or availability. You can find out more at the Griffin Technologies website.
Faraday Future FF 91
The Faraday Future FF 91, an all-electric car meant to rival the Tesla S sedan, made its debut at CES 2017 but without complete success. The much-anticipated reveal of its self-driving powers fell flat when the car refused to move.
This video shows the car failing to obey its command onstage:
The presenters showed a video that of the car self-parking outside, which was successful as it navigated through a parking lot, found an empty parking space, then backed itself into the space.
This video shows the highlights of unveiling:
But while the reveal might have been buggy, the specs of the car are impressive. Faraday claims that the car has a range of 378 miles/608 km on electric power alone. Speaking of power, the FF 91 has 1050hp, allowing it accelerate 0-60 mph in 2.39 seconds, beating the fastest Tesla.
The design of the car has been streamlined with no door handles or rear view mirrors. Press a button and the door opens automatically. Instead of mirrors, cameras are used to project views from the rear.
The FF 91's sleek design isn't just for looks. The car has a .25 drag coefficient, helping it to glide though the air with minimal resistance.
.@aishatyler and the @FaradayFuture FF 91 at #CES2017 pic.twitter.com/JxE3xamEGK

— CES (@CES) January 7, 2017
The company is taking reservations for the FF 91 with a deposit of $5000 at the Faraday Future website, though no price for the vehicle nor date for delivery have been announced.
Whether the car will actually become a production model remains to be seen.
Your Thoughts
Are you excited about the new tech announced at CES? Are you looking forward to our homes and cars becoming smarter? Which of these new gadgets appeals most to you?
Share your thoughts in the Comments section below!