Note: Bitstrips was purchased by Snapchat and is no longer available.
Instead, check out Bitmoji, which uses your character from Bitstrips in emojis you can use in messages, social media, emails and more: 
=>Bitmojis — Emojis Starring You!
---
If you've seen creative comics on Facebook and wondered how you can make your own, here's the answer: Bitstrips, an app that lets you easily craft clever and cool comics of yourself. Bitstrips is a free app for your computer and mobile device that helps you unleash your creativity and share it with your friends in a few easy steps!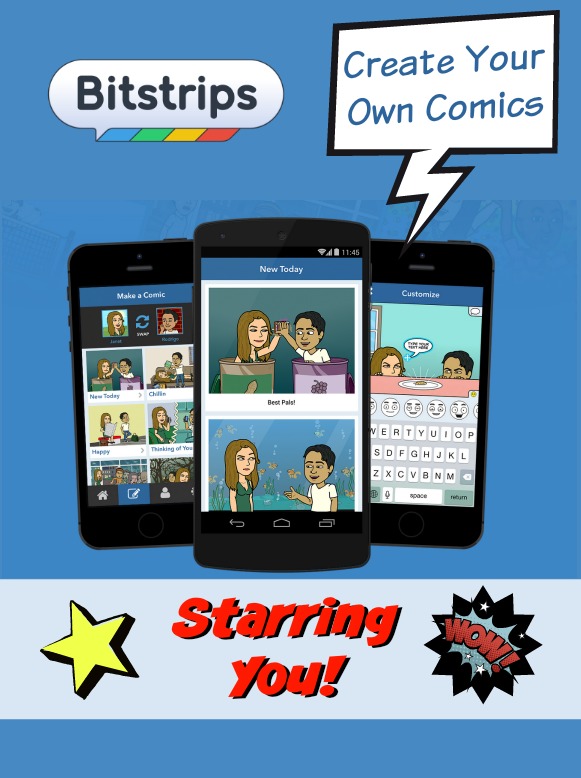 About Bitstrips
Bitstrips is a fun form of selfies where you insert yourself into a comic. You can send someone good wishes, make fun of a silly situation, or send a friend a happy birthday or Valentine's Day greeting. With just a few taps you can create Bitstrips comics and share them with others.
Get the Bitstrips App for Your Mobile Device and Computer
To use Bitstrips, download the free app for:
iPhone/iPad/iPod Touch
Android
Amazon Fire and other Android devices
Your computer as a Facebook app
[Note: Bitstrips apps are no longer available.]
Using Bitstrips
You can create an account by logging in with Facebook or using email. If you've logged in with Facebook, you're shown your Facebook friends who have Bitstrips accounts and the comics they've created recently.
You're then asked to create your own comic image/avatar so you can star in your comic. Choose from features such as:
Eye shape and color
Hair style, length and color
Eyebrows
Mouth
Nose
Face shape
and other attributes such as freckles, glasses, dimples and wrinkles
You can adjust your height and build to reality or the body of your dreams. Your choice. Then pick an outfit to match your sense of style or how you wish you dressed.
You can make your avatar resemble you or you can make it fun and funky. Or, if you already look fun and funky, then you can do both!
When you're done creating your avatar, tap the check mark to save it.
When you're finished creating your avatar, you may be offered to add another app, Bitmoji, so you can use your avatar as an emoji in a separate keyboard. Stay tuned for a future review of the Bitmoji keyboard app.
Creating a Bitstrip Comic
You can choose from comic themes such as:
Happy
Awesome
Chillin
Annoyed
Friendship
Relationships
Stressed
Birthdays
Weather
and much more.
Each scene has a caption at the bottom. You can choose a comic that best suits your mood, situation, feelings and more. New Bitstrips are added daily so you can always get new inspiration!
You can add Facebook friends' avatars into your Bitstrips by pressing the Plus sign and seeing their avatars. Only your friends who have a Bitstrips account will be shown.
You can also choose to add a comic bubble by pressing the plus sign + when you see the prompt. Bitstrips adds the bubble to your avatar and you can type in the witty text. Don't worry, you can edit or delete it later if you change your mind.
Using Your Own Photo as a Background
The Bitstrip app was recently updated so you can use your own photos as a background in your comics. Allow the app to access your photo library and camera and you can choose any picture you already have or take a new photo.
You can use pictures of your daily life, a fun vacation, an interesting place you visited or a sweeping city view. You can even use one of your Waterlogue creations as a background. Your choices of background have just become unlimited!
➽ Don't Miss:  Waterlogue Transforms Your Photos into Beautiful Watercolors!
Sharing Your Bitstrip
When you're finished, you can save your Bitstrip comic by tapping the check mark. You're then given the opportunity to share your Bitstrip with others using:
Bitstrip
Facebook
email
Twitter
Text message
or other social media sites. You can post the Bitstrip comic on your Facebook home page or share it directly with others who have Bitstrip accounts.
Your Thoughts
Have you ever seen Bitstrip comics on your Facebook News Stream? Have you even wondered how your friends created them? Have you tried using Bitstrips? Let us know in the Comments section below!