Tech can either attract or create some very interesting personalities. I'm not sure which, attract or create, perhaps it's a little bit of both. One of the more interesting personalities in tech is Rob Shoesmith, a former bin man (known as a trash collector in the US) who became an app developer.
In a riches-to-rags-to-riches story, Shoesmith has penned a slice of his life story in Bin There Done That, a new book now available in the iTunes App Store, as a Kindle book or a paperback at Amazon.
I first learned of Rob Shoesmith in September last year when I read about his project to camp outside an Apple Store in Covent Garden, London ahead of the iPhone 4S launch. Shoesmith camped for 10 days without spending any of his own money, relying upon donations and corporate sponsors for his supplies and sustenance. This admitted publicity stunt gained Shoesmith worldwide attention for himself and for his employer, MEDL Mobile. The tech world and others followed his journey and learned about his transformation from bin man to app developer.
What Shoesmith didn't reveal during his brush with fame last Autumn were his previous struggles with alcohol, depression and anxiety which combined to hasten his fall from being a promising university student to being an unemployed dropout. "No one can truly understand how hard it is to deal with severe anxiety and depression unless they have lived with it," he writes in the book. His battle with mental illness led to failing his classes at university and eventually dropping out.
The book is part introspection, part revelation and mostly inspiration as Shoesmith tells the tale of his downward spiral to "rock bottom" and how he lifted himself up by developing an iPhone app with MEDL Mobile and then becoming Digital PR Director for the company, despite having no previous public relations experience. His revelations are stunning and heartwarming as this book exposes him more to the harshness of the public eye than camping out exposed him to the harshness of living on London's sidewalks.
I interviewed Shoesmith about his new book and his experience in camping outside the Apple Store. One of his goals in writing the book is to help raise awareness of mental health issues. "I have had a lot of people tweeting me from all over the world who have said they can relate to me after having read my book and are contacting various people on my behalf to help spread the word."
Shoesmith's book is worth reading whether or not you're a techie. What makes the book hard to put down is his frank discussion of the issues he struggled with and overcame in embarking on his campout project. This feat would have been daunting for any but the bravest survivalist, but Shoesmith undertook the challenge fresh from his intense bouts of anxiety and depression.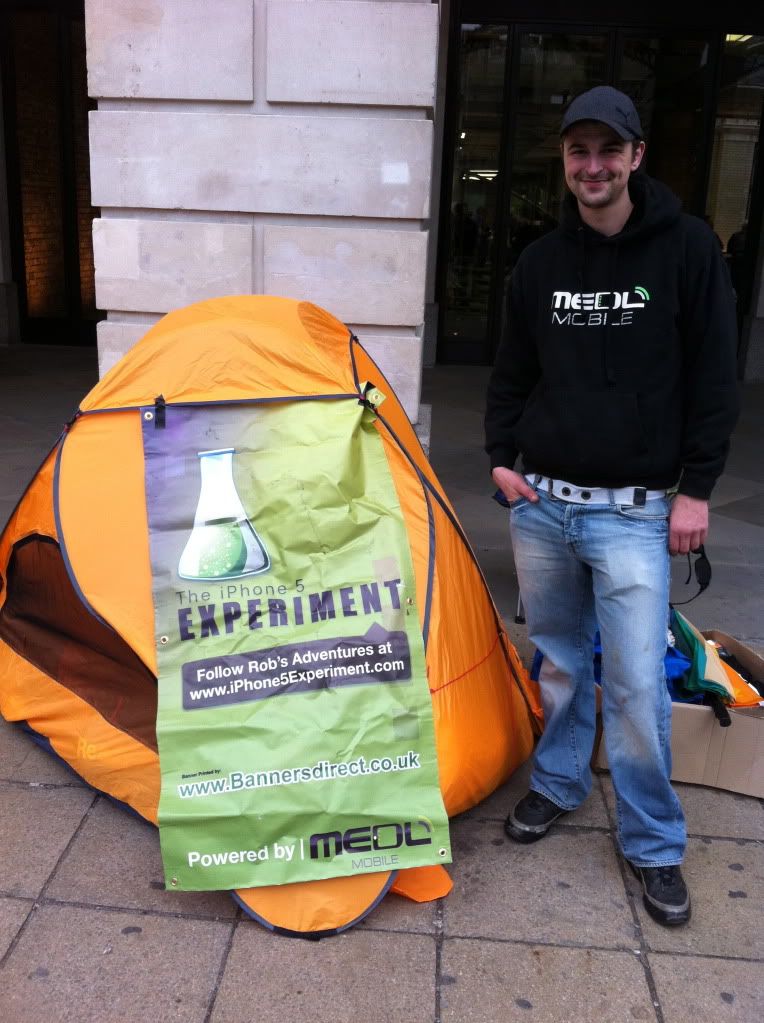 Shoesmith's tales of adventure during that 10 day period range from the frightening to the humorous. The experience changed Shoesmith, providing him not only with a new-found fortitude, but also with an appreciation for the struggles of the homeless.
Shoesmith faced exhaustion, safety, hunger and hygiene challenges during his campout, but he realized that these were permanent problems facing the homeless. Friends, family members and strangers all rallied to help Shoesmith achieve his goal, but he was acutely aware that homeless people do not receive such support. He vowed to make the most of his experience by trying to help the homeless after his project was complete.
When asked if he would consider camping out again, Shoesmith responded:
No and for the record I can't EVER seeing myself camping out for another iPhone again. It was one of the best experiences of my life but also one of the toughest. Being away from home and my creature comforts was a lot harder than I expected it to be. By the end of the experiment I was physically and mentally drained. Numerous times during the experiment I was on the verge of fainting due to the sleep deprivation. It was just far too hard to sleep at night as it was a really noisy place. I was camped out for 10 nights but some of the homeless people had been there for years! I now have a huge sense of respect for these people.
Shoesmith has moved further towards this goal by pledging to give his house to the homeless community if he sells more than one million copies of his ebook book, Bin There Done That. "I hope that making a statement as bold as giving my house away to a homeless charity will make people think and read the book for some of the reasons why I'm looking to do this."
If this sounds like an innovative PR project to you, then you've just gotten a glimpse of why Rob Shoesmith seems to have found his calling at MEDL.
In his blog, Shoesmith promises another "crazy experiment coming soon." You can follow the next step of his journey through his blog or on his Twitter account, @shoesmith81.
Bin There Done That is available as a Kindle book for $2.99 at Amazon and as a paperback book for $5.99 at Amazon.
Did you hear about Rob Shoesmith's campout in front of the Apple Store in October? Were you wondering why someone would do that? Do you enjoy inspirational books of people overcoming their challenges? Let us know in the Comments section below!
*Images courtesy of Rob Shoesmith