The Wonder of Tech is delighted to welcome back Elizabeth Sexton as a guest author. Liz, the author of Best Apps for Successful Students! and Take Note of Notability! Liz is here today to tell us why she prefers the iPhone to the Samsung Galaxy S3 in response to Praveen Rajarao's article, 10 Features My Galaxy S3 Has that Your iPhone Doesn't.
********************
When I read Praveen Rajarao's article, I was impressed with all that the S3 had to offer but the iPhone has unique features that make it a better choice for me and perhaps for you. The iPhone 5 and the iPhone 4S each outsold the Samsung Galaxy S3 in the fourth quarter of 2012, making those two iPhone models the most popular phones in the world with the S3 coming in third. Clearly there is much to recommend both the iPhone and the S3.
iPhone fans will say that the iPhone is superior while the Galaxy S3 fans will say that the iPhone has nothing compared to the S3. Both phones offer different but great features that make the phones different.
My iPhone/ Android Background:
I have owned both an Android phone and iPhone. My first smartphone was the Droid, but when I was eligible to upgrade my phone with Verizon, I quickly switched to the iPhone 5 just as it was launched. I changed over to the iPhone because it syncs much more easily with my MacBook, iPad, and iPod Touch. I wanted to have my music, calendar, and contacts synced all of the time between my devices.
My Droid also froze a lot and did not hold a charge for an entire day. In addition I thought that the iPhone's interface was much more user-friendly. However, one of my best friends recently got the Samsung Galaxy S3 and loves it.
Each phone is great in its own way; each has unique features, but your choice should be based on which features are most useful to you. Praveen did a marvelous job of describing the features of the Galaxy S3. I want to let you know about the features of the iPhone. I am happy that I got the iPhone 5 and plan to stay with Apple's iPhone line. (Note that the features of the iPhone I describe in this article apply to both the iPhone 5 and the 4S.)
These are some features that make the iPhone stand out compared to the Samsung Galaxy S3:
1. Find my iPhone (remote lock and wipe)
Find My iPhone can be the most helpful app on the iPhone, especially in that moment where you are panicking that you left your phone in a New York City taxi. By using either the Find My iPhone app or the iCloud website, you can see a map pinpointing the location of all your iOS devices. You can see exactly where they are on a map and send a signal to your phone, which will cause the iPhone to emit a loud beeping noise, even if the phone is on Mute.
If you realize that your iPhone has been stolen, you can remotely lock the phone by adding a password and wipe it, erasing all of your data. This feature helps protect your confidential information from the thieves.
I have used Find My iPhone many times in the past few months to help me locate my phone, and it definitely helps in a moment of panic.
If you want to locate your Android phone, you can use Find My Phone, but both the lost phone and the tracking phone need to have the app downloaded. Android phones can't be remotely wiped or locked.
2. iMessage
If you don't have a phone plan with unlimited text messages each month, iMessage can save you a lot of money. If you do have an unlimited text message plan, you may be able to cancel it thanks to iMessage.
With iMessage, text messages can be sent without counting against your text messages with your cell phone carrier. You can send photos and international text messages for free to other people who have an iCloud account, using their cell phone number or their email. See, iMessage: Team Blue!
iMessage works on other Apple devices, allowing text conversations to be picked up on a Mac computer or iPad, even if you started them on an iPhone.
One unique and helpful feature is that iMessage will show when a message has been sent, delivered, and received. It will also show when the other person is replying. It is helpful to get confirmation when the person you message has seen a text. However, if you don't want people to know whether you have read their message or not, you can disable the feature.
iMessage also allows easy group conversations where everyone can receive photos and respond to the group.
3. iBooks
iBooks, Apple's app for ebooks, gives you access to not only iBooks in the iTunes iBooks Store, but you can also have easy access to ebooks from Project Guttenberg. See How to Use iBooks to Enrich Your Ebook Library.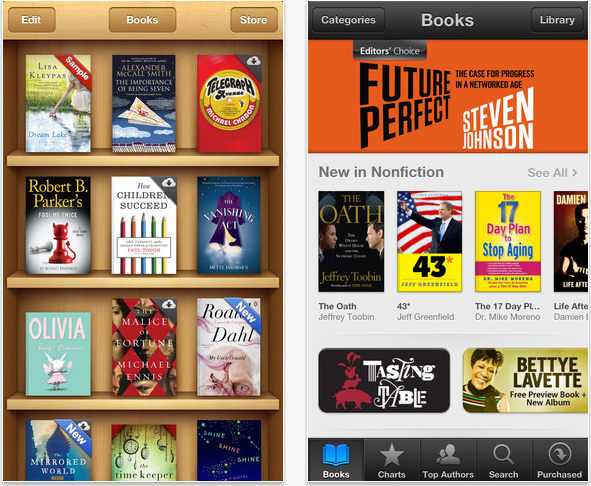 Because of the capabilities of the iPhone and the iPad, including the Retina display screen, interactive textbooks on the iPhone have images that can be manipulated in 3D.
Unlike Amazon's Kindle app, which is available on many platforms, iBooks is only available on the iPhone, iPad and iPod Touch.
The iBooks app allows you to highlight and take notes on whatever you are reading from within the app. The display of the books is amazing with the Retina display. Turning pages is flawless, and makes reading on the app feel like reading a real book.
4. Shortcuts
Shortcuts are unique to the iPhone, making typing and filling out forms much easier. By just typing a few letters, you can add your name, a web address, a sentence, phrase or paragraph. See, My Favorite New iOS 5 Trick!
To use a shortcut with the iPhone, users just type letters that will be turned into a full word, phrase or sentence through auto-correct. For instance, instead of writing out an entire email address, you can just create a shortcut consisting of a few letters in the address. This feature saves a lot of time when you have to type something frequently.
5. Do Not Disturb
Use the Do Not Disturb setting so your phone doesn't alert you during the middle of the night or an important meeting just to let you know that you've received a new email, phone call, text message or other alert. However, if there are certain people that you do not want to miss a message or call from, then you can set your phone to still notify you of those people.
Do Not Disturb can be set manually or automatically to turn on and off at a certain time a day everyday, so that you do not have to remember to set it before you go to sleep every night or turn it off in the morning. Having the Do Not Disturb option comes in handy when you want to temporarily avoid the notification sounds and light that the iPhone emits.
Yes, there are ways to try to replicate Do Not Disturb for Android phones, but the results aren't as functional nor efficient as with the iPhone. See, Silence Is Golden: "Do Not Disturb" for Android
6. Find My Friends
Find My Friends helps you locate friends who also have an iPhone, iPad or iPod Touch. When you connect with them, you can see their location on a map.
Find My Friends makes it possible to see exactly where people who also have an iPhone are. For example, parents can see where their children are if they are in a big area such as an amusement park and you can find your friends at a shopping mall or a concert.
To share your location with someone, permission has to be granted, and if at anytime you feel like you want to go "off the grid" then all you have to do is open the app, press Me in the bottom toolbar, then turn on Hide from Followers.
Having this app to keep track of your friend's and family members' whereabouts is helpful when it would be hard to otherwise call them or when you wouldn't know they were close by.
7. Unified Inbox
Navigating through emails on a smartphone can be challenging, particularly if you have more than one email account. The iPhone lets you view multiple email accounts from the native email app so you don't have to check multiple apps. This unified inbox gives you access to your Gmail, Yahoo, AOL, Hotmail and other accounts from one app.
You can try to get a unified inbox on an Android phone, but the process isn't simple. See, How to receive your multiple emails to a single inbox on your Android Phone.
8. Location-based reminders
Location-based reminders help you remember something when you arrive at or leave a location. You can get a reminder to pick up the dry cleaning when you leave work, pick up a prescription when you're near the pharmacy, or pre-heat the oven when you arrive home.
Yes, you can get an app that has this feature for Android phones, but the iPhone's feature is simple and free.
9. Push notifications
Your iPhone can alert you to important events with Push notifications. Push notifications can mean the difference between seeing and missing texts, emails, Facebook messages, Twitter messages, breaking news, etc. See, Apps: To Push or Not to Push?
Allowing an app to send you push notifications means that on the iPhone's home screen, a notification will appear without you having to swipe to unlock the phone. This feature is really helpful when waiting for emails, text messages, scores for a game, or simply waiting to know when your friend on Words With Friends has made their move. It is much easier than going into the app every five minutes to see if there is anything new that you need to know about.
10. iCloud (Syncing within Apple devices)
Apple's iCloud allows all of your devices to stay synced. This was one of the reasons why I wanted the iPhone so much. It makes life much easier, because I do not have to plug in my phone to sync music, documents, photos, and contacts to my computer to then sync them all over to my other devices. Any notes or reminders on the iPhone will also sync with the notes app on your computer and iPad, allowing you to stay more organized and backing up your files if your phone gets damaged, lost or stolen.
Bonus: Apple store support
If you have any problems with or questions about your iPhone, you can go to the Apple store to have them sort out your issues.
Upon buying your iPhone, you can sign up for OneToOne lessons, so that you can make sure that you know how to take full advantage of all the different features on the phone. See, Getting Schooled in Tech!
The iPhone is covered for one year under warranty, but if you want to pay extra, it can be covered for up to three years, making it very easy to take back and get fixed should anything go wrong.
Bottom Line:
There are many reasons why the iPhone is an excellent phone. The iPhone is a pleasure to use, and has something to offer for everyone. All of the features I mentioned are simple to use and come with the phone. I didn't even mention the beautiful Retina display screen, the fun and handy FaceTime, or the convenient voice assistant, Siri.
There is a lot to love about the iPhone. What are your favorite features about the iPhone?
***********
Many thanks to Liz for returning to The Wonder of Tech to share her insights with us!
* Push Notification iPhone image by Geoff R (altered)